Residual Stress Summit 2013
Residual Stress Summit 2013
Hilton Garden Inn
Idaho Falls, USA
October 8-10, 2013
The 2013 Residual Stress Summit was a very productive
and memorable event. See some photo souvenirs.
See you at the next Summit !

2013 and all past Residual Stress Summit Proceedings
are available through the Society for Experimental Mechanics
You are invited...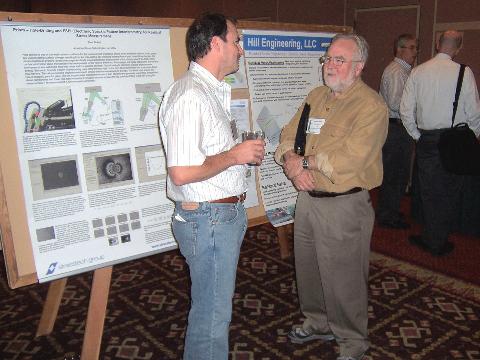 Mark your calendars for the 5th Residual Stress Summit, to be held on Tuesday-Thursday October 8-10, 2013 at the Hilton Garden Inn Idaho Falls, in Idaho Falls, Idaho, USA, and come early to attend the Welcome Reception on Monday evening, October 7. The Summit will showcase invited talks from acknowledged experts, topical updates, poster sessions and equipment demonstrations. The Residual Stress Summits are organized on a non-profit basis so as to be affordable and accessible meetings, see registration page. This year, copies of the new book Practical Residual Stress Measurement Methods will also be provided to all participants.
The central objective of the Residual Stress Summit series is to bring together residual stress users, (who have "problems" and are in search of "solutions") and developers (who have "solutions" and are in search of "problems"). The Summit is designed to have a tightly focused format by choosing in advance a coherent sequence of topics directed at practical needs and applications. Experts in these fields are then invited to speak and to share their knowledge and experience. All talks are by invitation only.
Also included in the meeting are demonstration sessions where residual stress related equipment and materials are displayed. In addition, RS Summit participants are invited to give voluntary poster presentations and/or equipment demonstrations. The informal conference proceedings will include a list of attendees, demonstrators and affiliations, as well as the presentations from the speakers and poster presenters.
The Summit Banquet will be held at the Museum of Idaho, at which the Iain Finnie Memorial Award will be presented.
The organizers warmly thank the Idaho National Laboratory for assisting with meeting coordination and organization of the venue.
We look forward to welcoming you to the 5th Residual Stress Summit, 2013 !

Michael Hill (University of California, Davis), Michael Prime (Los Alamos National Lab),
Michael Steinzig (Los Alamos National Lab), Gary Schajer (University of British Columbia),
Ismail Cevdet Noyan (Columbia University) John Jackson (Idaho National Laboratory)