Residual Stress Summit 2007
October 2nd - 4th, 2007
Oak Ridge, Tennessee, USA

The Residual Stress Summit 2007 was a great success.
Please see some photo souvenirs and come to the RS Summit in 2009 !

Go to Current Residual Stress Summit
You are invited...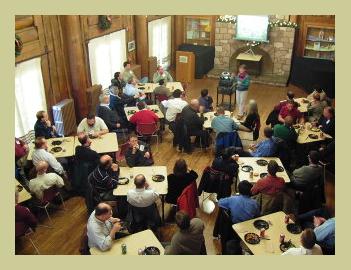 Mark your calendars for the Residual Stress Summit 2007, to be held on Tuesday-Thursday October 2-4, 2007 in Oak Ridge, Tennessee. The Summit will include a half day of touring the facilities at Oak Ridge National Laboratory, and a mixture of invited talks, short updates, a poster session and some other special items.
The theme of the RS Summit 2007 is "Engineered Stresses". The central objective of the meeting is to bring together residual stress users, (who have "problems" and are in search of "solutions") and developers (who have "solutions" and are in search of "problems"). The format of the Summit is designed to facilitate technical interchange among practicing engineers and researchers, rather than as a venue for the presentation of specialized academic research.
The Residual Stress Summit 2007 follows the format of the successful Residual Stress Summits held in Los Alamos in 2003 and Vancouver in 2005. A coherent sequence of topics has been chosen focusing on practical needs and applications. Experts in these fields are being invited to speak and to share their knowledge and experience. To keep the focus of the meeting, all talks are by invitation only.
Also included are demonstration sessions where residual stress related equipment and materials will be displayed. In addition, RS Summit participants are invited to give voluntary poster presentations. Informal conference proceedings will be prepared. The proceedings will include a list of attendees and demonstrators and their affiliations, as well as the presentations from the speakers and poster presenters.
We welcome you to the 2007 Residual Stress Summit. For key details, please download the RS Summit Brochure.
Proceedings from Residual Stress Summits 1, 2 and 3 are available
Copies of the proceedings of the previous Residual Stress Summits can be purchased at the Society for Experimental Mechanics online bookstore: http://sem.org/ecom/category/Residual-Stress-Summit-Proceedings.cfm
$20 each or $50 for all three. Ships as a CD, with PDF copies of the presentations given by the authors at the Summits.